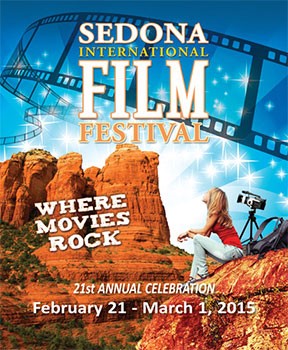 For the first time, the Festival will open with a thrilling concert by The Larry Dunn Anthology Of Earth Wind & Fire on Friday, February 20 at 7 p.m. at the Sedona Performing Arts Center. "Larry Dunn was the group's musical director and former keyboard mastermind who wrote, produced and arranged many of the band's legendary hits from 1972 to 1983 and performed on them all. Last year, he performed, produced and arranged three songs on Earth Wind & Fire's latest album, "Now, Then & Forever"."
Orson Welles The Festival will also offer more than 160 films—features, shorts, documentaries, animation, foreign and student films—plus personal appearances by Ed Asner, Mark Rydell, Jane Seymour, John Waters, and Chris Lemmon who will discuss his father, Jack Lemmon. Richard Dreyfuss will be honored, and the festival will pay a tribute—the first festival tribute to Orson Welles on his 100th birthday.
The Festival, called "the Fest to Impress" by MovieMaker Magazine, is recognized as one of the top festivals in the nation. This year's Festival continues to "honor those motivated by passion for their art and driven by a love for making timely, moving and important films."
Patrick Schweiss, Festival Director for the last eleven years, said, "This year's Festival will be exciting offering a wide range of fine, independent films from around the world—which are always our primary focus—but this year, we're adding more interactive programs with the audience, more Q&A sessions and discussions."
Welles' daughter Beatrice Welles, a Sedona resident (Orson was also a Sedona resident for two years), will host the various events offering anecdotes as well as behind the scene personal stories about her iconic father. Events include an appearance by film critic and family friend Jeffrey Lyons; Ray Kelly, head of www.wellesnet.com – the largest online resource on everything Orson Welles; as well as a panel discussion of "The Making Of The Other Side Of The Wind" – an unfinished film that Welles was working on at the time of his death in 1985. The film was recently purchased and completed according to Welles' notes and will premiere at the Cannes Film Festival. Welles' classic film "Citizen Kane" will also be shown at the Festival. For the first time, an art exhibit of Orson and Beatrice Welles' work will be held at the Goldenstein Gallery in West Sedona during the festival week.
Ed Asner and Mark Rydell will perform a one-act play "Oxymorons" and show their film "Good Men". The Festival program includes retrospectives on Asner's and Rydell's careers. "My Friend Ed", a documentary on Ed Asner, will also be shown, and Asner will perform his one-man show, "FDR.
Three favorite films of the Festival's honoree who will attend the event, Richard Dreyfuss, will be shown: "Mr. Holland's Opus", "The Goodbye Girl" and "The Old Man Who Read Love Stories", a lesser known film but a special favorite of Dreyfuss.
Renowned director John Waters will perform a one-man show entitled "This Filthy World".  He will discuss and show movie clips from his career, do part-standup comedy, hold a Q&A session, and sign copies of his book entitled "This Filthy World".
Jane Seymour will appear on February 24 at the showing of her recent film "Bereave".
Schweiss commented, "We're venturing into live performances with music and elements of film." For example, in a one-man performance, Chris Lemmon will offer a personal perspective of his father, Jack Lemmon, sharing movie clips and home movies as well as retelling anecdotes. Chris will discuss his father as a family man and their relationship. (It's interesting to note that Chris and Walter Matthau's son are graduates of Sedona High School. Jack Lemmon and Matthau appeared in the "Grumpy Old Men" films.)
A documentary "All About Love -The Music Of Larry Dunn" will be shown on February 23 and 25. After the showings, Dunn will hold Q&A sessions.
"Dunn helped transform Earth Wind & Fire into one of the all-time most successful R&B/funk/soul bands in the world with sales of more than 100 million albums worldwide, six Grammys, 13 Grammy nominations, four American Music Awards, 32 Gold and Platinum/Multi-Platinum records, a star on Hollywood's Walk of Fame, induction into the Rock and Roll Hall of Fame in 2000 and the Songwriters Hall of Fame in 2010, as well as many other industry awards."
For this concert, Dunn has brought together some of the world's greatest musical talents: Luisa Dunn, Procton Bonell, Jarrett Johnson and Leslie Smith on vocals; Steve Baxter on trombone; Bill Churchville on lead trumpet; George Geo Evans on guitar; Ty Fleming on drums; Michael Hunter on trumpet; Keith McKelley on saxophone; and Hilliard Wilson on bass.
For more information and to purchase tickets for this exciting Festival, go to www.sedonafilmfestival.org or call 928-282-1177.