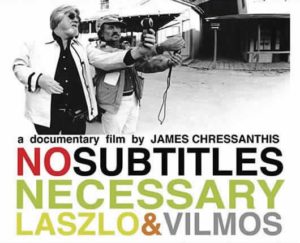 NO SUBTITLES NECESSARY: LASZLO AND VILMOS, a remarkable documentary directed and produced by James Chressanthis, ASC, and shown at the 2009 Sedona Film Festival, has been nominated for an Emmy Award in Outstanding Arts & Culture Programming. The award will be presented on September 27 at the Frederick P. Rose Hall, Home of Jazz at Lincoln Center in New York City. The film is a great tribute to cinematographers Laszlo Kovacs and Vilmos Zsigmond, film pioneers and great friends for 50 years who reinvented Hollywood filmmaking. The extraordinary documentary chronicles their lives and careers.
Jim will be traveling to Vladistock and Moscow, in Russia, and to Mongolia in September and October, where he will be screening his extraordinary documentary at American embassies and other venues, including film festivals. The screenings are part of the American Documentary Showcase, a cooperative venture sponsored by the Bureau of Education and Cultural Affairs, U.S. Department of State and the University Film & Video Association.
As cinematographer, Jim's work spans the worlds of feature films, television movies, music videos, commercials and documentaries. He was Director of Photography and one of the directors of the CBS prime time hit series "Ghost Whisperers." and re-shot the ending of the Academy Award-winning film CHICAGO. This is Jim's third Emmy nomination. He was nominated twice before for FOUR MINUTES, the story of runner Roger Bannister's quest to break the four-minute mile barrier, and for LIFE WITH JUDY GARLAND: ME AND MY SHADOWS, the widely acclaimed biography of the late star. In October 2001, Jim was the only cinematographer selected by DAILY VARIETY as one of 20 rising stars to watch in the film industry.
Learn more at http://chressanthis.com.